Hi girls!
I am amazed each week how beautiful our little ones are. Last week we had nearly 20 babies showing off their green spirit.
This weeks theme is bath time, so show off those clean(or dirty) babies!
Remember directions to post are in the right hand side bar, and I'll post pics to the post from the comments as I get them.
Sean has always loved his bath time!
-hclavalley
Bathtime is definetly Kailey's favorite time of the day!
mrparsley07
A clean monkey.
-Books4brooke
Harrison and his green duckie getting clean. Can you tell he has learned how to splash in the bathtub now!
-AU_Dre
Look who finally figured out how to enjoy his baths!
-raya
She was two months old here. One of my favorite bath pics.
-FredsNey
Oliver loves the duck tub!
-kelly&marty
Allison just loves the chicken head towel that MayBride sent her! I swear she's happier after baths these days.
-berty12777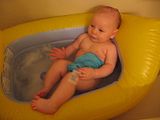 relaxing in the duck tub
MrsRoss
Here is Emma after her first bath.
-ocean
we call this one.......the sexy leg!
~ourlittlebean
Jocelyn is NOT a fan of bath time!
-Heether
She loves her pink duck tub.
~Mrs.Mclstar48
Avery loves her bath time!!!!
-abj22
All wrapped up in his froggie towel.
-jaimeers18
Here is Linc at 3 months. The jury is still out about whether he likes baths or not. Some days he does, some days he doesn't. AB&TB.
Here is one of him sleeping in his ducky towel just after his bath at 10 weeks old.
AB&TB.