Hi everyone!
This week we are going to show our favorite picture of our LO playing.
Remember directions to post are in the right hand side bar, and I'll post pics to the post from the comments as I get them. Please keep it to one pic per baby. REMEMBER TO INCLUDE YOUR BUMP NAME IN THE COMMENTS!
Submit your pictures till Friday afternoon, and then vote for your favorite over the weekend!
Emma is playing with a cracker wrapper. :)
AngelsAmid
Sitting in a float, "playing" some b-ball!
-- Heether
I love her smile!
~ Mrs. Kap
He's just starting to really play, so we don't have a ton, but I love this one of him on his playmat.
~Tams148
Gabriel having a tea party, just like he saw on t.v.!
Rachelxx05(Gabe)
Tyler playing with/eating his Mickey.
Jen3
Penelope just loves playing in the ball pit!
Rachelxx05(Penny)
Maddie's preferred way of transporting toys from one side of the room to the other.
Katebug421
Madison playing with and "talking" too the animals on the bouncer.
AngelLuver_02
My aunt bought him this ball pit. I think he was a bit overwhelmed.
jennunc
Avery is such a little beach bum -- there is nothing in the world she likes better than playing at the beach!
-abj22
Cameron playing with himself in the mirror. I think he thinks he's pretty funny!!
Stacedog42
Harris has so much fun during tummy time these days.
~maramarrie
Safe to say Hailey is a fan of the doorway jumper?! :)
Mrs.Mclstar48
Linc is all tangled up in the balloons, it was hilarious.
AB&TB
The best playtime is NAKED playtime!
After tummy time Ethan rolled over so that he could kick up a storm and pee everywhere :)
mrsdanigirl8
Harrison abd his cousin playing with the bead maze.
-AU_Dre
Here is Emily plotting to take over the world from her command post, code name "The Exersaucer".
-jnealet
Emma in her exersaucer chewing on her pal the Star while wearing the rocking outfit Mimi bought her.
-ocean
Zoe's keeping an eye on that giggling teddy bear.
-ashs
Taylor is having a serious staredown with the lion. Who won? With that look, you know who did!
-mmcrocker
Oliver in Central Park, playing with sticks, which are one of his favorite toys!
-kelly&marty
Sean swinging on the playground. He LOVES playing... there were so many to chose from.
-hclavalley
"Yes, Mother?"
-lilyvalley
Carter is such a little water baby! Bath tub, swim classes, splashpool.....he loves the all. I just love this picture, you can almost hear him yelling through it. (which he was, btw) :)
-**Sissy**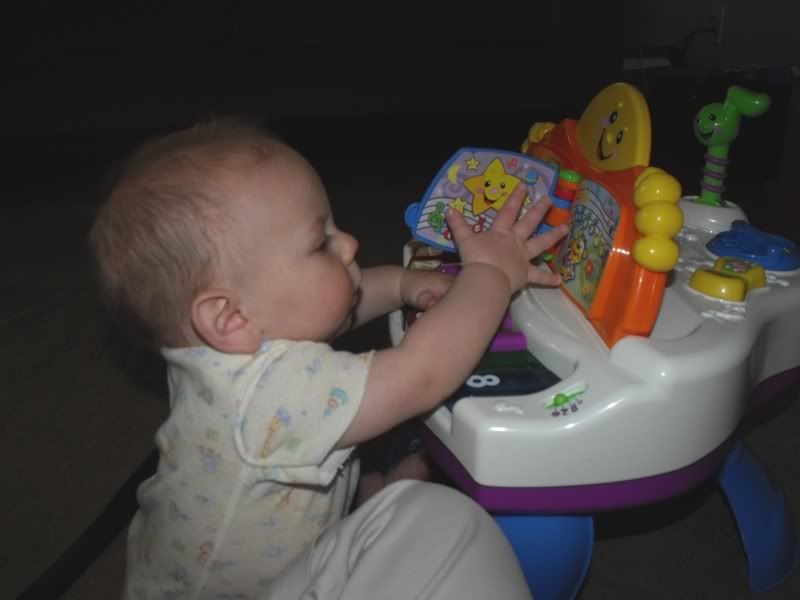 Playing the piano.
mrs ross
There's nothing in the world Hadley loves more than this ball.
-MayBride
James is Rockin' the Mohawk! Einstein Style
-JessiLW
future rockstar? maybe....
-snwfields
When He First Started Playing and reaching.
Future Mrs Rubins (Amanda)
This was the first time he pulled up. He threw that ball up there and just wanted to get it! I love his face - "YYYYEEEESSSSS, here it is, FINALLY!" Too cute!
-jaimeers
Playing in the finger paints, painting a heart for daddy :)
mrparsley07