Hi everyone!
Sorry this is a day late, I was traveling this weekend and just got home.
This weeks theme is all about the smiles! Show us your LOs beautiful smiles (whether or not they are caused by gas!)
Remember directions to post are in the right hand side bar, and I'll post pics to the post from the comments as I get them.
She's so hard to catch on camera, but her smiles melt me.
-MayBride
This is one of the first pictures we got of Harrison laughing and smiling.
-AU_Dre
Kate just smiling like she always does, she is such a happy baby.
-ncsubride
Ben is sneaky with his smiles and we often get a half smile or a smirk. He only gives big smiles in the morning and when I don't have the camera, stinker!
-ncsubride
I LOVE Kailey's smiles...she just opens her mouth as wide as she can and it's so cute! She's always smiling :)
-mrparsley07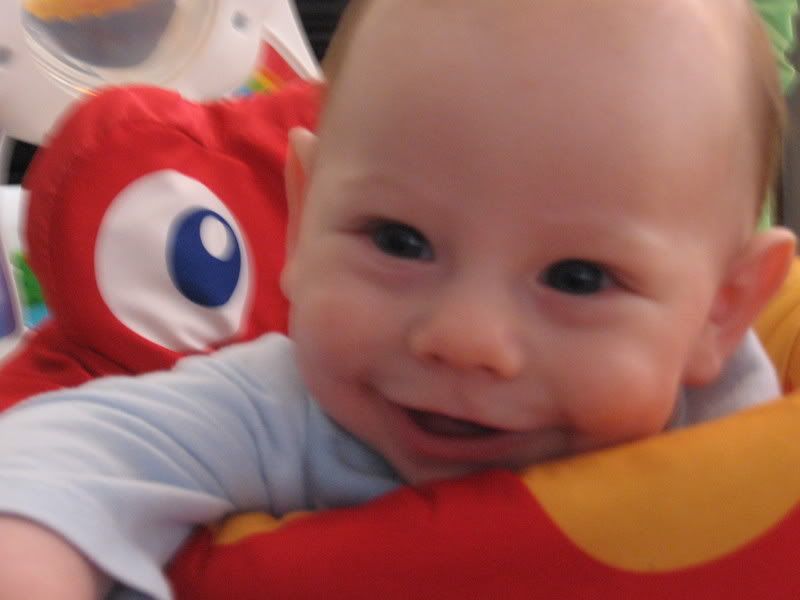 he's a smiley little guy
-mrsross
Lincoln is such a happy baby. I have tons of smiling pictures. It is hard to choose just one! This was from his 7th month.
-AB&TB
Organic Baby! I have so many of him smiling, but this one was one of the first. Love it!
-jaimeers18
I couldn't resist trying out Lilly's new bathing suit in the middle of March... evidently she enjoys new clothes as much as Mommy does!
-Gemini
I don't know if this is a real smile or the look of someone loading up a diaper, lol. I think it is cute anyways : )
-ParisBride06
Her smiles are so hard to catch...they are too quick! Here is my favorite pic of one so far.
-ocean
Sorry it's so dark. i wanted to catch one of Hailey's morning smiles after she wakes up!
-Mrs.Mclstar48!
I love her smile in this pic! She really loved the sink bath at Grandma and Grandpa's house while on vacation.
- summerbridesara
Milo is such a happy kid - so here he is, grinning at me in his Mr. Happy t-shirt. (and climbing up the stairs on his own, too).
-Gwyn1030
Showing off her teeth!
~lovelifeinthesouth
Tyler always stops smiling when I pull out the camera so this is the best we could catch so far. I love the smiles though.
Jen3
This is one of my favorite smiley pics of Sean, taken a couple months ago.
-hclavalley