Hi everyone!
Hope you all had a great holiday, we all have suck cute little Easter babes!
This weeks theme is sleeping babies! We all know they sleep (even if it is only occasionally)!
Remember directions to post are in the right hand side bar, and I'll post pics to the post from the comments as I get them.
Avery sleeping like an angel!
-abj22
This one makes me laugh because this is NOT how Lilly went to bed the night before! I wish I had a video camera I could fast forward through the night to see what kinds of shenanagins go on that crib!
Gemini
Maddie sleeping - around 3 months old
-Katebug421
This goes way back to when Harrison was about 1 day or 2 old, but it has always been one of my favorites.
-AU_Dre
This is why I love cosleeping. How can this not be the best thing in the world to wake up to? And, because I couldn't pick just one, here's Allie taking a nap in her swing with her soft frog and her super-soft zebra blanket.
-berty12777
Yes, he deliberately put that whale over his eyes to fall asleep. It was pretty funny to watch him position it just so.
-AB&TB
Kailey was almost 3 months here. I was trying to get dishes done and she was fussy, so I strapped her into the high chair while I was washing dishes. I gave her frog to her and her paci and in about 3 seconds she was out.
-mrparsley07
I took this with one hand while Tyler was sleeping in my arm. I just love the hand under the chin.
Jen3
Here is Sean from way back in December, not the best I have but the easiest to get to. He still sleeps with that monkey EVERY night, he loves it. Somehow he always ends up nose to nose with it.
-hclavalley
Emma was about 1 month old here. She no longer used the positioner but still sleeps with her arms like that.
-ocean
Sophia was only a few days old here, but this has always been one of my favorite pics of her.
-summerbridesara
Ben asleep after a bath he was about a month old here.
Kate asleep on her boppy striking a pose she was about a month old here as well.
-ncsubride
DH left Oliver playing with his sock in the baby jail while he ran upstairs to make a bottle to start bedtime. When he returned a few minutes later, this is what he found. Apparently, he just nodded off and toppled over mid-sock playing! lol
-kelly&marty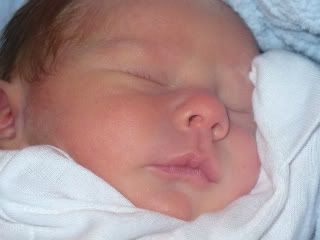 He was 24 hours old. It's still my favorite one.
mrs ross
Here's a recent one -- so peaceful! I love how he looks like a little man even though he's only 4 months...something about his build and all his hair!
- dr.girlfriend
This one is right after DH got back from his first work trip (Vegas) after she was born. They were both quite tired.
-jnealet
Eva at 2 weeks
Zachary around 2 weeks
-evasmommy
Jocelyn looks like a bird in this pic
- Heether
I call this one "Milk Coma". This is DS passed out after a bottle one day. I have so many of him sleeping, this kid sleeps ANYWHERE!
-jaimeers