Hi everyone!
This week the picture theme will be milestones! So show off your LOs biggest milestones.
Remember directions to post are in the right hand side bar, and I'll post pics to the post from the comments as I get them. Please keep it to one pic per baby.
I am going to try to figure out how to do a poll to vote on pictures. I think we are all mature enough to know that this isn't a popularity contest, and just enjoy the beautiful babies on the board.
I think what I might set up is that pictures can be submitted Mon-Fri, and then on Friday I'll set up the poll. You can then vote from Friday-Sunday. Then on Monday morning there will be a new topic, and a winner announced. If someone wants to design a POTW blinkie for us that would be great, but I am no good at that kind of thing.
Yay! My first time participating! Here is a picture of Spencer 2 weeks ago when he was finally able to sit up on his own, rather stay up on his own!
~GenaAndJosh~
Here is Avery "walking" with her baby carriage. She likes to show off and try to go one-handed, though, so Daddy has to be right there to catch her!
-abj22
Kate eating an orange all by herself.
-ncsubride
Ben isn't so sure about the orange but he would suck on it if you helped him some.
-ncsubride
Sean want to stand on everything these days. He just started pulling himself to standing on the door, and in his crib. It makes me laugh because he hasn't had nearly this amount of interest in crawling.
-hclavalley
Kailey pulls herself up to a stand on almost anything she can now...she's starting to walk around furniture and her crib now too.
-mrparsley07
This was when Linc first started to get good at tripod sitting. He was almost 5 months old here.
-AB&TB
My favorite milestone....smiles!
ParisBride06
First try at solid foods -- finger lickin' good!
dr.girlfriend
This was taken on the day that Maddie started sitting up on her own. I was so excited to be able to bathe her in the big tub, and she loved it!
-Katebug421(Vote for Bump name??? I can't change in poll after voting has begun)
Harrison loves to stand at the window and watch "baby TV" outside.
-AU_Dre
Haven't gotten a picture of him rolling from back to belly yet so here's him grabbing onto his Sophie.
mrsdanigirl8
Kellen learned how to flush the toilet. Since this is still a milestone my husband has yet to master, I am quite proud!
-books4brooke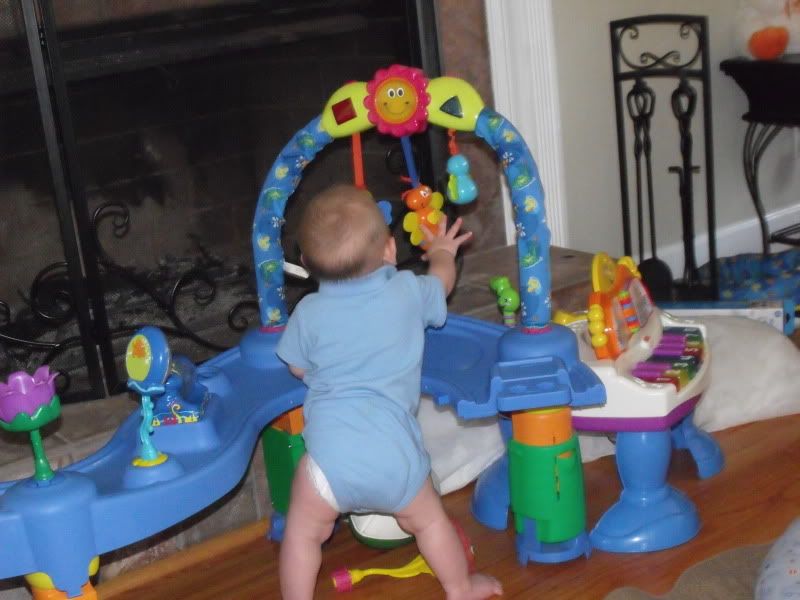 I wish I could get "cruising" in a pic but this will have to do. He stands with one hand and lets go. Here's a one hander.
mrs_ross
Standing with some assistance!
-CJinMD
This was from about 2 months ago when Oliver was just starting to walk. Daycare sent me this pic, and I love it because it shows that unsteady "drunken sailor" walk that he did at first. I also love how happy he was to be doing it, lol!
kelly&marty
Emma trying solids for the first time. She had no idea what to make of it.
-ocean