Hi everyone!
In honor of the upcoming Father's Day, show off your favorite picture of your LO and their Daddy!
Remember directions to post are in the right hand side bar, and I'll post pics to the post from the comments as I get them. Please keep it to one pic per baby. REMEMBER TO INCLUDE YOUR BUMP NAME IN THE COMMENTS!
Submit your pictures till Friday afternoon, and then vote for your favorite over the weekend!
This is meredith & her daddy last week.
-Crazycrustacean
Maybe Daddy needs a cool hat like Maddie's!
-Katebug421
Daddy and Kailey making silly faces at each other.
~mrparsley07
When Ethan was just 1 week old and would still sleep on Daddy :)
-mrsdanigirl8
I just took this one the other day. Avery absolutely loves riding on Daddy's shoulders!
-abj22
Daddy & Hailey on our Quad (ATV). She loves this thing...even when its turned on! She's fearless already!
~Mrs.Mclstar48
Jocelyn thinks daddy is hiLARious!
-Heether
Daddy & Jake a few days after getting home from the hospital.
-Gregsbride22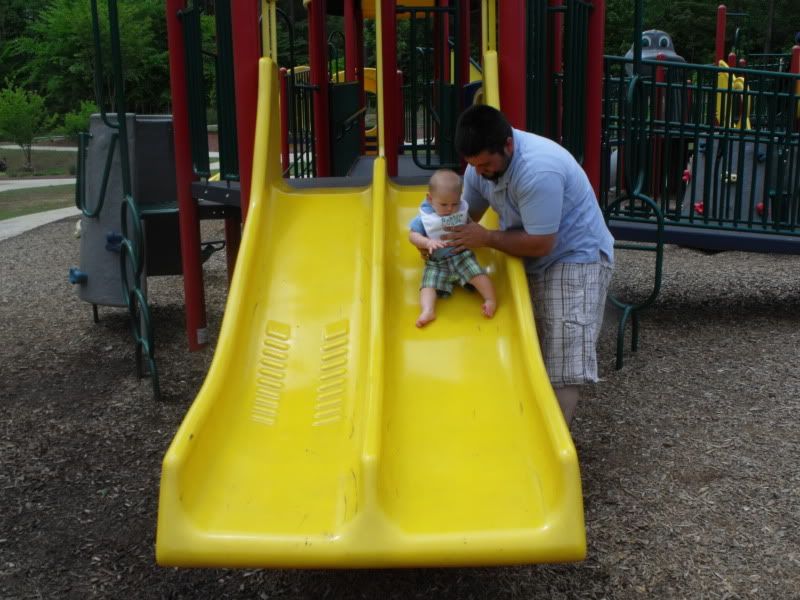 Daddy and Conner on Mother's Day.
-mrs_ross
Emma and her Daddy when she was just a few hours old.
~ Mrs.KAP
Hard as I try, I still can't find a picture that I love more than this one!
-NoVa
Evan and Daddy enjoying a spring day.
-yellowcar
Emma & her Daddy on the porch.
-AngelsAmid
Sean and his Daddy, my two silly boys!
-hclavalley
Hadley loves her daddy. It kills me how much they look alike!
-MayBride
Daddy hold Madison for the first time once she was out of the NICU
-AngelLuver_02
This is my fav picture of Daddy and Avery
-sdkrlm
ZZZzzz...
-summerstarr
DH giving Colton (2 days) his first bottle b/c he wouldn't latch on after his circumcision.
-KEF&ACF
Daddy and Kate in Rock Creek Park. Kate's just not that in to nature.
-FredsNey
Penelope threatening Gabriel to keep away... "Daddy is MINE!"
-rachelxx05(Penelope)
Gabriel and his daddy fishing together for the first time.
-rachelxx05(Gabriel)
I think this will be one of the only threads I'll be able to use a pic of Duncan in, so.... This is Jim and Duncan about an hour after he was born.
-MrsMSG(Duncan)
Dane and Dustin like to sing to each other.. This is yesterday at breakfast.
~ Tams148
Here is a pic of Linc and his Daddy during his first EEG. I remember the emotions going through us at this time, and it just pulls on my heartstrings to see how he is holding Linc.
-AB&TB
Sophia and Daddy love to watch Penn State football together. Sophia looks like she is saying "touchdown!!!!" in this picture.
-summerbridesara
Three generations: This is John Herman III, IV and V.
-1stMate
Daddy and Aidan Rose after a long day. Notice the package of peeps and empty glass from the milk DH used to wash them down...
-wannabemomma
Daddy and Brendon at the beach for Daddy's birthday!!! Daddy and his mini-me :)
-Kaybee44
No paternity test needed.
-mlf625
Daddy and Alexis taking a nap. I think her onesie says it all!!
-smithin05
My favorite pic of Alison & her daddy.
-YukonC
A recent one of Daddy having some fun with Paxton! I love watching them together, it's my favorite thing.
-jaimeers
Andrew sleeping on his daddy - almost 1 month old.
-CJinMD
Harrison and Daddy out in a rare snowfall in Alabama.
-AU_Dre
I wake up early in the morning to walk the dog. When I come upstairs, this is usually how I find dd and dh. It melts my heart. And I know dd's head looks uncomfortable but she loves to sleep that way.
-ocean
This is Gianna and her Daddy's first dance together.
~Lilyvalley
Here is Emily getting her first e-mail lesson from her Daddy.
-jnealet
I had my blog readers vote on six pictures, and this one won, even though you can't see either Jim or Seth's face. Oh well. =)
-MrsMSG(Seth)
Like father, like son. Napping during sportscenter.
-jen3
Yianni and his dad are hard at work on the navigational bridge in Monaco. The F1 was coming to town, and they were ready to go!
-k10777
John changing Ben and it was also his very first diaper change in his entire life.
-ncsubride(Ben)
John with Kate shortly after they were born.
-ncsubride(Kate)
I actually had to check and make sure he wasn't using her as a pillow.
-lata82
This is one of my favorite pictures of Tessa and Daddy. You can see that she's Daddy's girl (and mini-me!)
-valkaz
I have a lot of cute smiley ones, but this is still my favorite...the first months were so hard with Kiran's medical issues, and we were all exhausted, this photo really sums up the love *and* the pain to me!
-dr.girlfriend
Addyson watching the US Open and Justin sneaking in a kiss on her foot!
-jamielynne0616
This is an unconventional picture of them, but Daddy took this one while I was in the shower one day and was so proud of it. He says that they were "bumping knuckles." (My very favorite pics of them are from our prof. photographer and I don't have access to those ones)
-**Sissy**
Kevin is an English teacher and wants to make sure that Allison loves reading as much as he does!
~berty12777