Hi everyone!
Time to show off your LOs favorite outfits pictures!
Remember directions to post are in the right hand side bar, and I'll post pics to the post from the comments as I get them. Please keep it to one pic per baby. REMEMBER TO INCLUDE YOUR BUMP NAME IN THE COMMENTS!
Submit your pictures till Friday afternoon, and then vote for your favorite over the weekend!
Jax sportin' his shades! :)
Ris9701
My little ballerina! Hailey is 6 months old in this pic!
~Mrs.Mclstar48
I just love this outfit and headband. Not to mention the look on her face!
- Heether
Godless Killing Machine.
-dr.girlfriend
This is one of my all time favorite pics of Emma. She was just a week and half old. I loved this outfit on her, too bad she outgrew it in a week and only wore it a couple times.
-ocean
This was just after we took Colton (3mo) to go see Santa. It was the one of the first smiles that we were able to capture on the camera.
-KEF&ACF
Harrison in my favorite Christmas outfit as a little reindeer.
-Au_Dre
Alison in her tutu princess outfit!
-YukonC
This was Sean's first Halloween costume, he was a cute little pumpkin.
-hclavalley
Avery wearing her very favorite t-shirt! This was the day I found out I was pregnant, also the day Avery turned 5 months old. We ran out that morning to buy this shirt and this was how she told her daddy the news. It cracks me up to see someone so little in such a big girl shirt.
-abj22
This was when Paxton was just 7 weeks old. It was his Christmas PJ's. It had a little bear paw on the tushy and the little hat fit perfectly!!
-jaimeers
This is actually DH's favorite, the ever-stylish grunge/camo combo, but it makes me laugh, too. The back of the shirt says "mischief," so we call him our little mischief man.
~ Tams148
This is from our 3 month picture session. I just love my little surfer dude and his little sandals.
Jen3
I don't dress them often but these are one of my favorite matching outfits.
ncsubride(Kate)
I don't dress them often but these are one of my favorite matching outfits.
ncsubride(Ben)
We have a ton of Cameron in this outfit. I don't know what it is about it, but he looks so cute and he acts so comfy in it!! It might help that it has a truck on it and DH works in construction! My little manly man!
Stacedog42
I love Emma's little shorts!
Mrs. Kap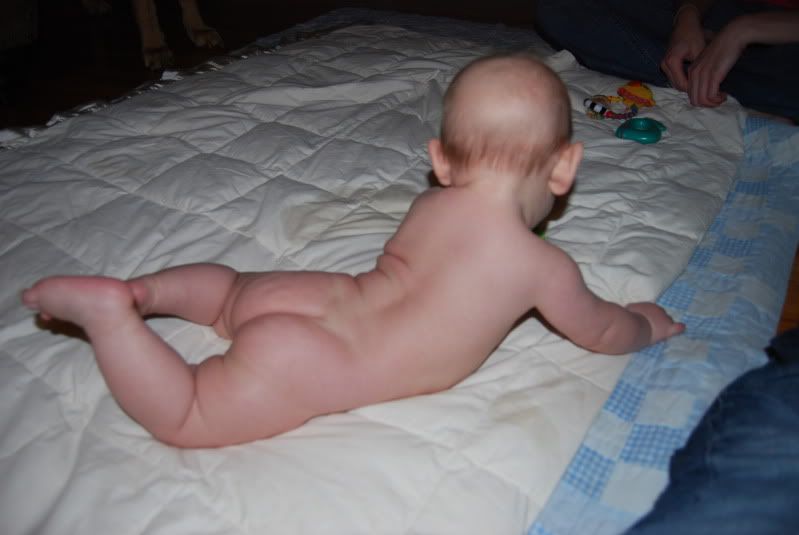 C's birthday suit is my favorite! gotta love a naked baby.
mrs_ross
Even though she'll hate me someday, I love Hadley's little pony outfit and bib.
MayBride