Hi everyone!
This week the picture theme will be grumpy faces! So show off your LOs most grumpy or unhappy face!
Remember directions to post are in the right hand side bar, and I'll post pics to the post from the comments as I get them. Please keep it to one pic per baby. REMEMBER TO INCLUDE YOUR BUMP NAME IN THE COMMENTS!
Submit your pictures till Friday evening, and then vote for your favorite over the weekend!
All my DH was doing was saying her name to her. I think she might not like it ;)
-Mrs. KAP
We were trying to get some Christmas pictures and she was NOT having it. Poor baby!
mrparsley07
Sean isn't a fan of crawling in the grass!
-hclavalley
getting some shots of them in their new onesies and they pulled these faces :) they both look guilty to me haha ;)
-Gretchen*loves*Michael
Here is Hailey at 6 months old during her prof shoot. Gotta love having a prof pic of your child crying!
~Mrs.Mclstar48
I'll do you one better...here's grumpy, wrinkly, *and* scabby!
dr.girlfriend
She learned to shove the whole Soothie in her mouth, so I gave her a different paci in hopes that it wouldn't bend as easily. She was able to shove that in her mouth too, but it got stuck and hurt her lip. The only thing that would calm her down was chewing on her beloved soothie again.
-reese.piece
Kate angry that I would not pick her up.
-ncsubride
Ben sad that Kate was crying.
-ncsubride
We took Avery to the beach where DH and I got married. Apparently she didn't like it as much as we did!
-abj22
This was during his 6 month photo shoot. I don't think I ever got a really good one because he was so cranky the whole time.
-AB&TB
Emma did a big poop before her bath and we put it in a plastic bag to take to the trash. She usually grabs bags from us so we tried to have her carry her poop bag and she wanted nothing to do with it. I guess the smell grosses her out too!
-ocean
This grumpy face was from Alex's newborn photo shoot when he was 11 days old.
-jen&sean
Kellen being himself.
Books4brooke
Apparently, Sophia wasn't too thrilled with sitting on my cousin's lap!
-summerbridesara
Apparently Andrew wasn't too excited about Halloween.
CJinMD
This when Maddie still had to wear her brace for her hip dysplasia. She was not happy to have to put it back on... and made just the right face to show us that she was mad at us!
Katebug421
Harrison not enjoying his dinner. Not to fond of the greens!
-AU_Dre
This is Emily Cate tired of her dad taking pictures of her.
-jnealet
This is Paxton right after we brought him home. He was slightly jaundiced, so we had to put him in direct sunlight a few times a day and he was not a fan.
-jaimeers
Jocelyn's first time in the BeBePod. She LOVED it, obviously!
Heether
Tyler was not excited about being BatBaby in the air.
Jen3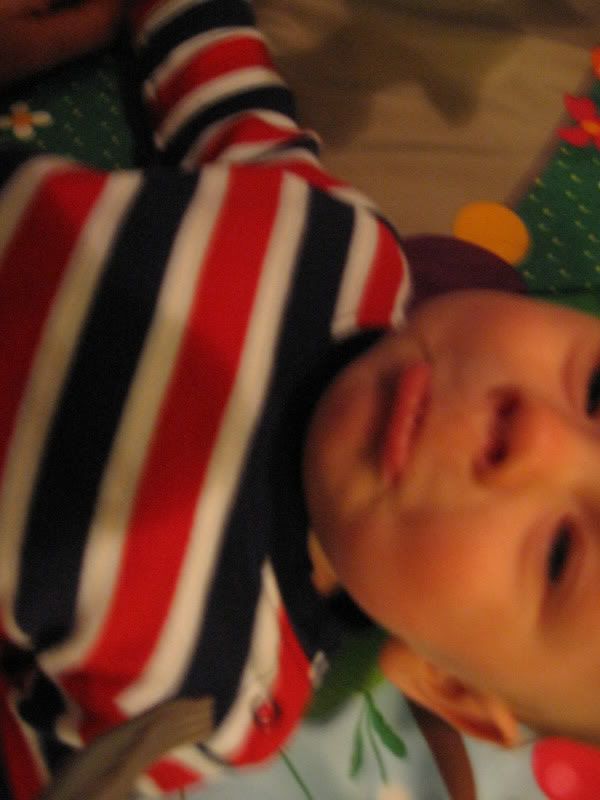 Conner's famous boo boo lip
mrs_ross07
This was Abigail's first time trying out her high chair. She was happy for a few minutes and then turned horribly upset in the blink of an eye!
-cherryblossom25
This was Jacob telling me that he was not having his picture taken that day.
~pumpkinhead06
Our dog, Sox, feeling Gianna's pain!
~lilyvalley
Hadley was NOT happy I disturbed her nap to take a picture.
-MayBride
Max is clearly NOT a Sox fan, lol! He got this outfit from Sox fan friends of ours as a joke and he screamed as soon as we put it on him. Go Cubs!
-ParisBride06
Gabe was not happy that his Daddy ran into the bank with out him. In between sobs he was yelling "No Cheese!" haha!!
-rachelxx05
Harris and his "grumpy face." There are so many phases to it that it was hard to choose just one. This is usually how it starts, though. All these grumpy faces are SOOOO cute!!!
~maramarrie
POST Poll Submissions:
Ethan is done with tummy time!
mrsdanigirl8