Hi everyone!
Time to show off your LOs favorite hair-do or hat pictures!
Remember directions to post are in the right hand side bar, and I'll post pics to the post from the comments as I get them. Please keep it to one pic per baby. REMEMBER TO INCLUDE YOUR BUMP NAME IN THE COMMENTS!
Submit your pictures till Friday afternoon, and then vote for your favorite over the weekend!
Ethan sporting some crazy post-bath hair.
-rowanthefrog
Since Sean has no hair, here is one of my favorite hat pictures. This was one of his Christmas pictures. The hat was so adorable on him.
-hclavalley
Meredith in all her cute glory with our favorite hat.
-Crazycrustacean
Liam at one month loving his new winter hat.
-MoinMoin
Lilly's baby nurse made this hat for her in the hospital. It's one of my favorite items of hers... I could cry just thinking about how tiny and precious she was when we brought her home wearing it! I think I did cry the day I went to put it on her head and it no longer fit. Next baby!
-Gemini
Since Emma doesn't really have hair I went for a hat shot! This is the hat that they put her in the day she was born. Even though she looks adorable I HATE that hat :)
-Mrs.KAP
My mom makes these family heirloom hats where the baby is supposed to wear it home from the hospital or to her christening and then you snip a couple of threads and it's a handkerchief for her wedding day. She makes these for everyone she ever meets that might maybe have a baby girl, but she never made one for me! When I asked about it, she made this one and insisted I put it on Allison for her next big milestone event - which happened to be eating solids (not really typically an event for which one wears hats)! LOL!
~berty12777
-mrsladd (Kian)
Having fun with Tyler's hair.
-Jen3
This was a hard choice for me. Avery has had lots of crazy hair-dos in her short 9 months and I know you all love her famous pigtails! But I couldn't resist this one. I still laugh out loud every time I look at it. I call it, "daddy did my hair today". She was 4 months old here.
-abj22
Kiran had enough hair at birth for the faux-hawk...and he also had the, "Oh, MOM!" look down pat.
-dr.girlfriend
Ms. Dylan getting some sun.
-camiejae
Well Linc always has had goofy hair, so I will just post one from right after his first hair cut 2 weeks ago. I always think his expression is saying "What are you looking at?"
-AB&TB
I like Carter's curls, because it makes him look like me, lol.
-mrsladd(Carter)
Dane sporting his usual Conan O'Brien 'do.
~ Tams148
So, I don't know if this is supposed to be just for the tiny ones, but as long as we're talking hair, I have to put one up of my Natalia, too. :)
-mrsladd(Natalia)
This was the hat the hospital gave to Hadley. They told me that the smallest baby needed the prettiest hat.
-MayBride
Kailey eating at Stake and Shake for the first time. She loved the hat they gave her and wore it all the way home. She still plays with it :)
-mrparsley07
"How you doin'?" This is Max at 8 weeks and this was the peak of his hair craziness. I comb it after his bath every night and within 5 minutes it sticks straight up again!
-ParisBride06
Alison at 3 weeks! I love this pic of her in this hat!
-YukonC
Here is Emma sporting her love for the Sox.
-ocean
Ben with his hat that matches his outfit and Kate's.
-ncsubride(Ben)
Kate with her hat that mathes her outfit and Ben's.
-ncsubride(Kate)
Harrison out cruisin in his car.
-Au_Dre
Ethan on one of our many walks around the block with Daddy.
-mrsdanigirl8
Paxton on his first walk thru a local park. I love this hat!!
-jaimeers
Kate on her first trip to the Mall in February.
-FredsNey
Kellen modeling pigtails.
-books4brooke
Jacob sporting the "hunting" look. I loved this hat... and the pants that matched it :)
~pumpkinhead06
This picture was taken today when Ethan went swimming with his girlfriend! Thank goodness he loves his sunhat. My poor fair-skinned redhead would fry in the sun!
~ourlittlebean
This is how Colton woke up one morning & that was how it stayed all day. We couldn't get it to go down!!
-KEF&ACF
This is Gianna's homegirl look!
~lilyvalley
Emily obviously did not inherit DH's big head!
-jnealet
Madison's first hat expereince. She has a little peanut head and this is a 0-3 size. It's huge.
-AngelLuver_02
I love putting bows in Pen's hair!
-rachelxx05(Penny)
Gabriel at his first birthday party, sporting his crown!
-rachelxx05(Gabe)
I think you all know how much I love this hat.
-NoVa
Not exactly a hat but Fletcher gearing up for the Nuggets playoffs!!
-snwfields
Sophia in her Minnie Mouse hat. She was about 7 months old in this picture.
-summerbridesara
Cameron at 4 months on Cape Cod
-Stacedog42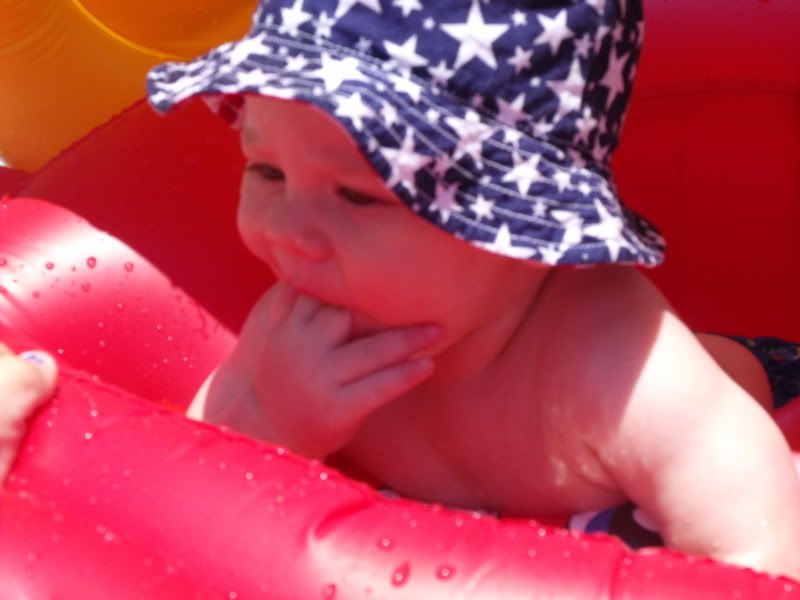 chillin in the pool
-mrs_ross
Evie in her first summer hat
-Melissasue81
his was taken after Avery's first bath at home. Her fuzz was all over the place.
~Sarah (sdkrlm)
I love this hat! I call this "my traveling man"
jennunc